March 16, 2010
by susan tuttle


If you are reading this, chances are you have your own blog that you are passionate about. You enjoy sharing pieces of your life in your online journal and relish in the creating of rich, meaningful posts resplendent with innermost thoughts, poetry, photography and links to things you love. You probably invest much time and energy whenever you create a post, holding yourself to lofty standards, getting it just right before you push that publish button.
We all know how important it is to post regularly in order to maintain a steady following, and all of us at times have those days when it is time to post but we feel we can't rise to the occasion, either because we don't have the time, the content or inclination to post. I've discovered a simple approach to posting that's perfect for those "off" days — an approach that's fun, not at all time-consuming, low-pressure, and inspiring.
Simply make a list of experiences drawn from your day, accompanied by one or two random photographs taken that same day. Keep each item on the list short — one to four words per experience works well. Here, let me show you…
To accompany the random photo from my day in this post, I give you this simple list:
orange paint, lavender coconut body cream, moka pot, thrifting, wool blanket, black + white photography, dentist reminder, lime green roving, lost keys, white chocolate mocha, lemon pudding cake, barber shop, Lucy Schwartz, red wine, shrimp in remoulade sauce, candlelit talk, cuddles, stargazing, photomanipulation
The first time I did this, I was surprised to discover how the list read like poetry; how enchanting it seemed — casting some glitter upon my ordinary day. En-joy!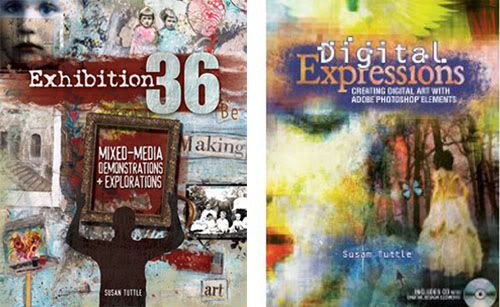 Susan Tuttle is a mixed-media and digital artist who resides in a small-town community in the state of Maine. Her first book, Exhibition 36: Mixed-Media Demonstrations + Explorations, was released by North Light Books in December 2008, and her second book, Digital Expressions: Creating Digital Art with Adobe® Photoshop® Elements, a technique-based publication on digital art, will be published by North Light Books in May 2010 and is currently available for pre-order on Amazon. Susan is a frequent contributor to Stampington & Company publications and other mixed-media books. You can visit her site at www.ilkasattic.com and her blog at www.ilkasattic.blogspot.com through which she is offering online digital art workshops on the subjects of photomanipulation, digital montage, and a variety of Photoshop techniques.
19 Responses to "in a new light :: simple blogging"